MATRIX - 6 levels (216 boxes)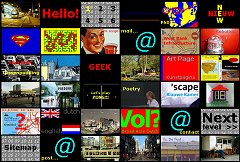 This site comprises 6 levels. Each level contains a matrix of 6x6=36 boxes.

Level 1 - MAIN (home) >>
Level 2 - MAIN (second page) >>
Level 3 - MAIN (bonus page) >>
Level 4 - WORK IN PROGRESS >>
Level 5 - LINKS >>
Level 6 - BLACK & WHITE >>
MATRIX - fixed boxes (at all levels)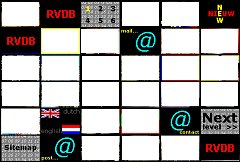 RVDB - information & pages on us.
@ @ @ - 3 opportunities to mail / write us.
Next - to THE next level.
123456 - the 6 levels (MENU).
Sitemap - link to this sitemap.
E/NL - to one of our language pages.
NEW - short cut to a page recently edited or compiled.
MATRIX SCREEN PAGES (396 boxes)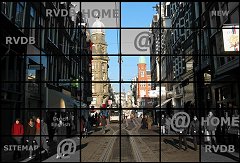 The screen pages are excessible from the six levels at various fields. Another
option is the Screen Overview page, which offers access to all screen pages, simply on one screen page!
OVERVIEW of all thematic screen pages:

Art yes, it's about art, behind the red boxes.

Adam disguises the matrix as a full image of Amsterdam's centre!
FCKSUV action page: ban SUVs from our cities!
Heads will surprise you; learn about fixed fields and full page monster heads!

Memory transforms the matrix to a MEMORY game playfield!
Night watch a über-black night!

Parks offers the full page FADING PARKS animation!
Poetry offers access to RVDB's full matrix page on POETRY!

Snow a close view on our black snow page!
World turns the matrix into a world map containing many study tour sites!

Please, mail for information.

HOME

(C) RVDB, Amsterdam 1995-2021