Paul Smulders
Untitled, 2001
(3 details)

Acrylic / oil on canvas / transfer print
40 x 50 cm

On the wall
Photography: Rob van der Bijl, March 2004
Klik hier voor Nederlands...
Paul Smulders (1962) matches his personal way of painting with available images selected from visual media. In his studio in Amsterdam (Netherlands) he paints and compiles images full of tension - abstract and figurative. RVDB likes his work and is proud to present some 'details'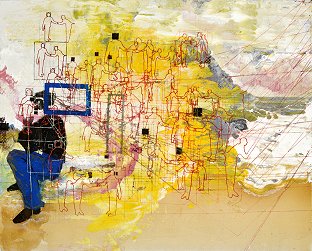 2006 - Untitled,
200 x 250 cm,
Acrylic/ oil/ transferprint/ canvas
Paul Smulders (1962), Amsterdam, combineert een persoonlijke manier van schilderen met voorhanden afbeeldingen uit visuele media. In zijn studio in Amsterdam schildert en monteert hij spannende beelden - abstract en figuratief. RVDB houdt van zijn werk en is trots enkele 'details' te presenteren.