RVDB Urban Planning - Amsterdam, Netherlands, 2005-2011
Maze - Labyrinthe - Doolhof
New mazes here... Back to main page of RVDB...
Prototype Maze, designed by RVDB, 2005


This 'living' maze serves as prototype for future investigations. Entrance and exit are interchangeable, though the centre is a fixed position along the successful route. Your decision time is short. The solution will be animated soon! New mazes here...




Our Urban Mazes Section here...
Amsterdam Dam Maze
Amsterdam Dam Maze, designed by RVDB, 2005-2009


This preliminary design for a maze in the very heart of Amsterdam represents our comment on the urban culture of Holland that lacks urban monumentality. Amsterdam certainly is not Paris. No avenues or monumental squares are present in Amsterdam or in any other Dutch city. However, we don't consider this absence of monumentality a disadvantage. On the contrary! Our maze at the Dam square enhances the existing non-monumentality. We like the huge Palace (former town hall!) facing a small square and its awkward national monument. Our design implies a new symbolic role for the monument as centre and destination of wanderers and other visitors within the maze, which is shaped according to the famous Hampton Court hedge maze, planted between 1689 and 1695 for William III of Orange. The Palace at the Dam of Amsterdam deserves a historic quality, in other words, a quality that enhances the use of its public realm. We believe this maze around the national monument meets this purpose.
Berlin Mouse Maze - Back to top of this page here...
Photos by RVDB, Berlin, December 30, 2010
Mouse Maze at the exhibition SOMA of Carsten Höller at the Museum Hamburger Bahnhof, Berlin, November 5, 2010 - February 6, 2011. "Carsten Höller, who habilitated in agricultural sciences, ... directs the quest for SOMA into the realm of art." (Museum Guide)
Adrian Fisher
Three Lands Point Maze, design by Adrian Fisher (1992)
Map by Adrian Fisher, Thames & Hudson 2006; photo fragments from NL XL by Karel Tomeï, Scriptum 2008


Adrian Fisher is one of the world's leading maze designers. We love all of his mazes, but particularly his Three Lands Point Maze in The Netherlands close to the German and Belgium boarders.
Hedges
A hedge is barrier compiled by closely spaced shrubs and tree species. Hedges are the basic elements of classic mazes such as the one in the Open Air Museum in Arnhem (Netherlands), reconstructed in 1921 and again in 1999 according to an example of a 16th/17th century maze in Amsterdam.
No Hedges
In stead of hedges wood can serve as basic element of mazes too. The 'Black Hills Maze' near Rapid City (South Dakota, USA) shows a wooden structure that determines a high class type of maze. In principle one can adapt the maze pattern easily, though during our inspection (July 2009) we couldn't find evidence of recent adaptations. It looked if the wooden walls of the maze weren't moved for a long time. Moreover, we weren't impressed by the state of maintenance. A similar type of maze is located close to the main entrance of Glacier National Park (Montana, USA).
Maze Mania
Compilation by RVDB (February 2009) - Sources: internet or unknown.
Mazes have been built with hedges. But this mania-section shows other means too. Fences, ice, wood and glass. Real, virtual and abstract mazes. Difficult and easy ones. A maze of corn. And a labyrinth which isn't maze.
Crystal Planet Glass Maze
Glass Maze - Photography by RVDB, Bruges, Belgium, May 2009

May 23, 2009 we encountered a charming glass maze at the fair of Bruges, Belgium. The 'Crystal Palace Maze' is a regular type of glass maze but within the environment of the UNESCO listed urban landscape of Bruges it certainly got a special meaning. Moreover we loved the busy fair and the crowd captured in the maze.
Religious Labyrinths
Pictures of Chartres Cathedral (France) and Geertekerk (Utrecht, Netherlands)
The religious labyrinths of Chartres Cathedral and other churches like Geertekerk and its 'labyrinth carpet' prove why labyrinths are not mazes. In a labyrinth, as depicted on beautiful floors or carpets, one cannot wander. Only one single route leads the visitor to the final destination in the centre of the labyrinth. Though predictable, the route isn't straight for sure, which represent a basic feature of labyrinths: the long way to the centre allows introspection and deeper thoughts on matters beyond mere pragmatics. This is why Chartres or Utrecht suit religious facilities. A maze on the contrary would create confusion here, because its successful route is less obvious and perhaps reflects decision making in life that can't be captured easily by religious notions.
Chicago Funhouse Maze
Photos by RVDB, Chicago (illinois, USA), July 17, 2009
The Fun House Maze on the Navy Pier of Chicago is a famous attraction. It's praised as 'amazing', which is true as young couples choose the maze as location for their marriage photo shoots. Nevertheless, we were a bit disappointed during our visit (July 2009). The maze isn't very complicated nor big and attractive. So, we felt that Adrian Fisher (who is the designer of this structure!) created one of his less successful mazes here.
Peace Maze
Peace Maze (2000)
The overall pattern of the maze resembles the human brain, reminding the explorer of the thought processes required in the search for peace.
The Castlewellan Forest Park's 'Peace Maze' (Northern Ireland) is the world's largest permanent hedge maze representing the path to a peaceful future for Northern Ireland. Concept design by Beverley Lear and planted in 2000 with community involvement, it is maturing quickly and visitors attempt to solve their way to the peace bell in the centre of the maze.
Credit Maze
| | |
| --- | --- |
| | |
Le Monde, June 16, 2009
Move your cursor above the maze to reveal the double solution.
Cetelem offered a new service in Le Monde that would help people not to be lost in 'the meanders of credit', symbolized by a maze. However this maze isn't very complicated. The solution is easy. Though by detour, even a second solution is available too!
Alice in Wonderland Maze

The Alice in Wonderland hedge maze in Disneyland Paris is based on scenes and characters from Disney's 1951 feature Alice in Wonderland. In this maze we love the encounters of Alice with the Queen of Hearts, who had a similar labyrinth in the film. The maze is split into two sections. The first shows some of Alice's adventures prior to meeting the Queen. The second section is called 'The Queen of Heart's Maze' and is based around the final scenes of the film.
Back to top of this page here...
Cité du Labyrinthe
Three maps:
LEFT- Michelin 10 (version 1988), MIDDLE - Google Maps Satellite (April 2011), RIGHT Google Maps Map (April 2011)
Cité du Labyrinthe is part of the Ménilmontant quarter in 20th arrondissement of Paris. The street with the same name is hard to find. Somewhere behind Boulevard Ménilmontant, the north entrance at Rue de Ménilmontant is disguised as a private gate within a building. At the other end Cité du Labyrinthe is connected to Rue des Panoyaux. We like the zigzag structure that explains the name of this Cité.
Shibuya Station Maze (Tokyo)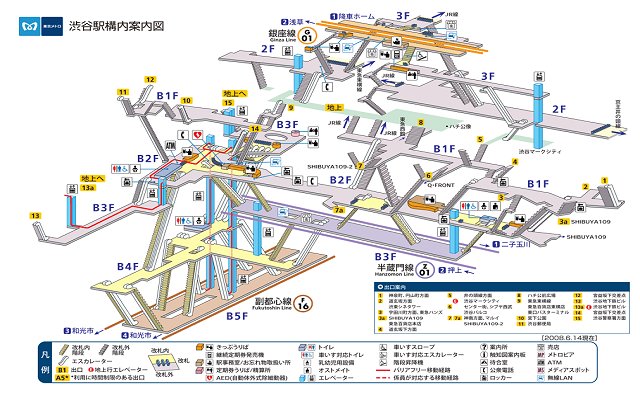 Diagram by JP, June 2008
Tokyo is a true maze. The urban structure and districts like Nakano, Shinjuku, Shibuya and Shimokitazawa, to mention some of the ones we studied, are maze structures for sure. Within Tokyo public transport represents another world of mazes. Here is an example of the 'maze' of Shibuya Station. Learn more about Tokyo as a 'maze city' on our Urban Landscapes page here…
Footage from 'Tokyo Animation' by Florian de Visser, March 2008 - at YouTube.
Tokyo is a true maze indeed. Please enjoy the video of Florian de Visser at YouTube. In this wonderful animation the urban environment of Shinjuku Station has been depicted as a virtual maze, drawn at an aerial photo. Be amazed here…
Back to main page of RVDB...