JANET TYSON, MIXED-MEDIA ART WORKS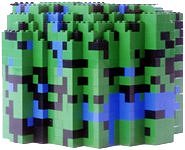 Janet Tyson is an American artist who works almost exclusively with found objects, which may be from nature, salvaged from the trash or brand new and store-bought. Occasionally, she draws or paints. But more often she prefers to construct images and objects from such diverse materials as wood, glass, paper, tape, metal and plastic e.g. LEGO!.
Tyson started working with Lego plastic bricks when her two small children became interested in playing with them. Tyson, herself, never had played with Lego-bricks and was fascinated with their intense colors and the precise way in which they joined together.
She has made constructions from Lego since early 1997. In addition to architecture and literature, she sometimes takes inspiration from her children's inventions, and other times looks to art history and contemporary culture for ideas.

Seeing Janet Tyson's Lego House at the Museum and having been familiar with her Lego Work for a while, I was inspired to duplicate her House in my Studio "Laboratory."
Then evil thoughts came to me. What if I were to switch my house with her house when no one was looking? Would the house the person buys at the fund raiser become Janet's House because they "think" it's Janet's house? Is what we perceive as true, really true?
I built the house with an open chamber in the middle that is accessed from the bottom of the house and put a note in it that reads "This is not a Janet Tyson original but a cheap Knock off."
On Friday afternoon on Feb. 1, I went to the Museum and walked in, prepared to do the switch. No one was in the main gallery at the time. In fact, no one was even to be seen. I stood in front of the shelf where Janet's piece perched. Then a new idea came to me. What if I put my house next to hers?
Yes, yes. There would now be two houses and no one to know which was which. Would the Museum have to contact the artist to confirm the difference? Would Janet know which was which? The possibilities intrigued me. As quietly as I walked in unnoticed, I walked out.
I am wondering what will happen, if anything, at the fund raiser Saturday night.
I am telling you this, JR because I knew you would find it interesting. XXX and XXXX [ names deleted ] are the only people I have informed of this "devilish behavior." Keep this under your hat and let's see what happens...
Anonymous
RVDB's link: More red, yellow and blue... (and a bit of green)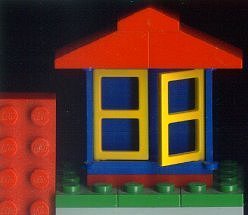 RVDB's little RYB-House

RVDB proudly hosts www.veiligwonen.nl/safeplaces. LEGO bricks support using this site.
But is this art?